For active psoriatic arthritis (PsA) in adult TNFi‑IR patients1
POWERFUL


DISEASE CONTROL IN P

S

A2,3
RINVOQ met its ranked secondary endpoint
of Minimal Disease Activity at Week 243
IR=intolerance or inadequate response; TNFi=tumor necrosis factor inhibitor
SELECT-PsA 2 Study Design Intro:1 24-week, double-blind, placebo-controlled study of 642 adult patients with moderate to severe active PsA who had an inadequate response or intolerance to at least one biologic DMARD. Patients were randomized to receive upadacitinib or placebo.
DURABLE


MINIMAL DISEASE ACTIVITY RATES4
(n=53/211) OF RINVOQ PATIENTS ACHIEVED MDA
vs 3% (n=6/212) placebo at Week 24 (Ranked Secondary Endpoint, NRI, P<0.001)3
Based on a post hoc analysis of SELECT-PsA 2 (NRI*)
Of the 53 RINVOQ MDA Responders:3,6,7
Met Tender Joint Count ≤1
Met Swollen Joint Count ≤1
Met PASI ≤1 or
BSA-
Psoriasis ≤3%†
Met PASI ≤1 or BSA-Psoriasis ≤3%†
Met Patient Global Disease Activity ≤2
(0-10 NRS)
Met Leeds Enthesitis
Index ≤1†
DATA LIMITATIONS: Post hoc sub-group analysis not included as a prespecified endpoint or controlled for multiplicity. The MDA responder's placebo arm was insufficiently powered (n=6) to generate comparable subgroup data. Therefore, no conclusions can be drawn regarding the data.
†All patients regardless of presence of enthesitis or percent of BSA-Psoriasis at baseline were included in this evaluation. RINVOQ is not indicated for the treatment of plaque psoriasis.1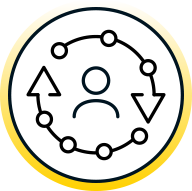 SELECT-PsA 2: Biologic DMARD-IR patients4
ALL DATA ARE OBSERVED CASES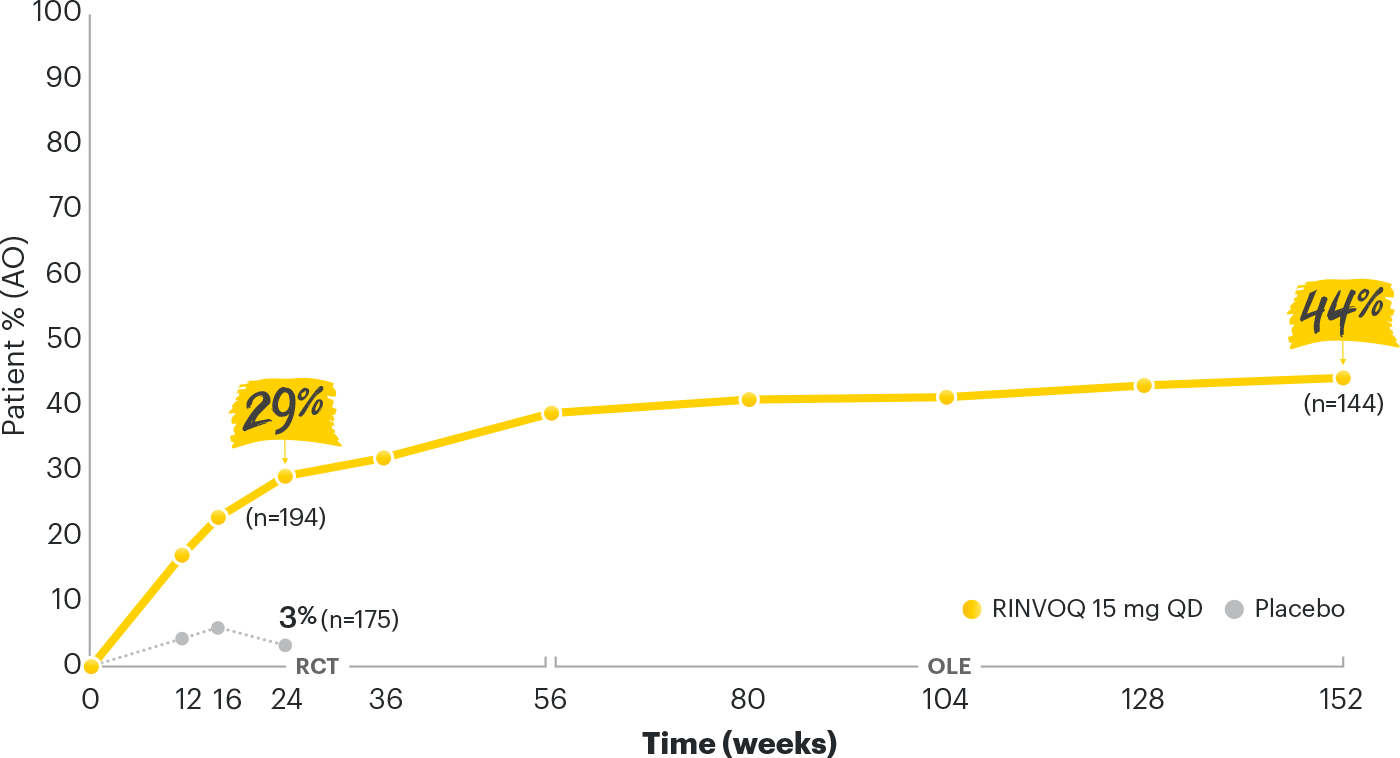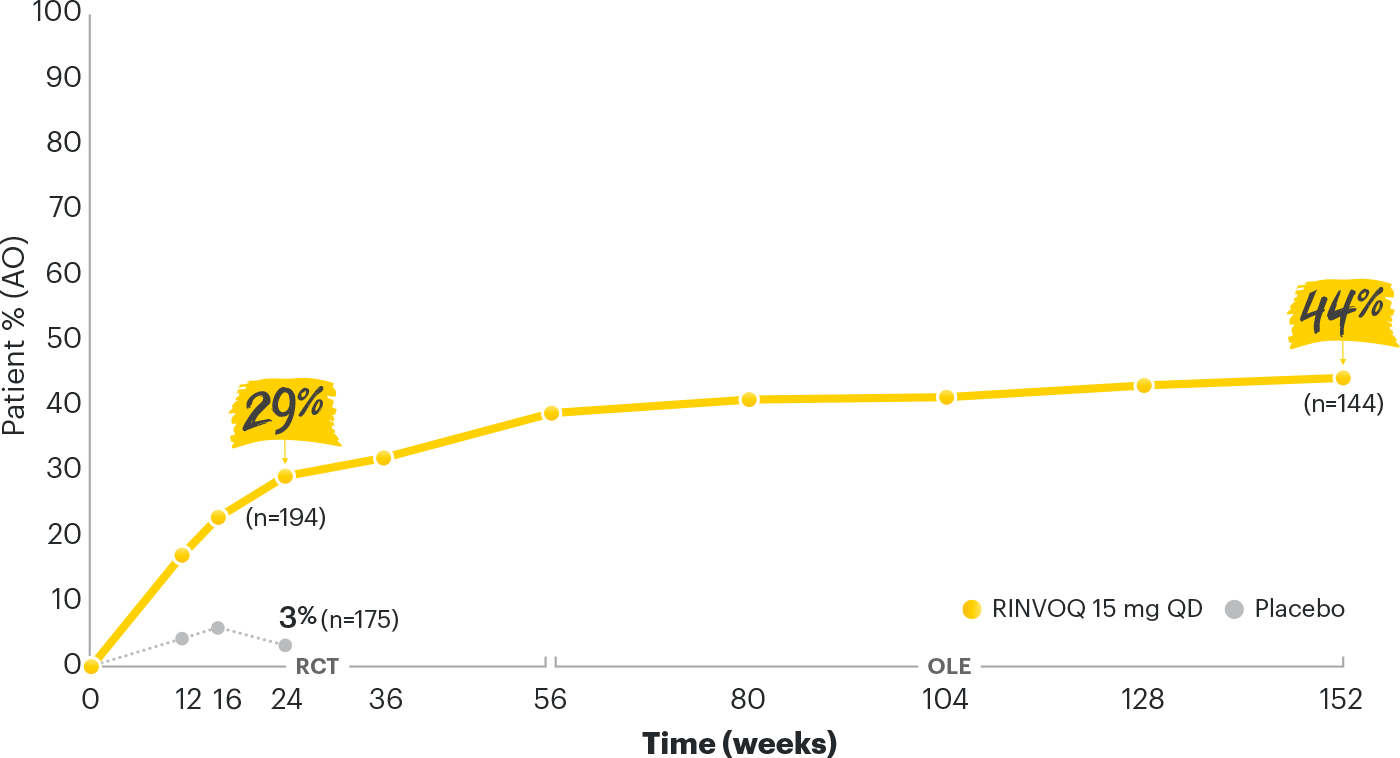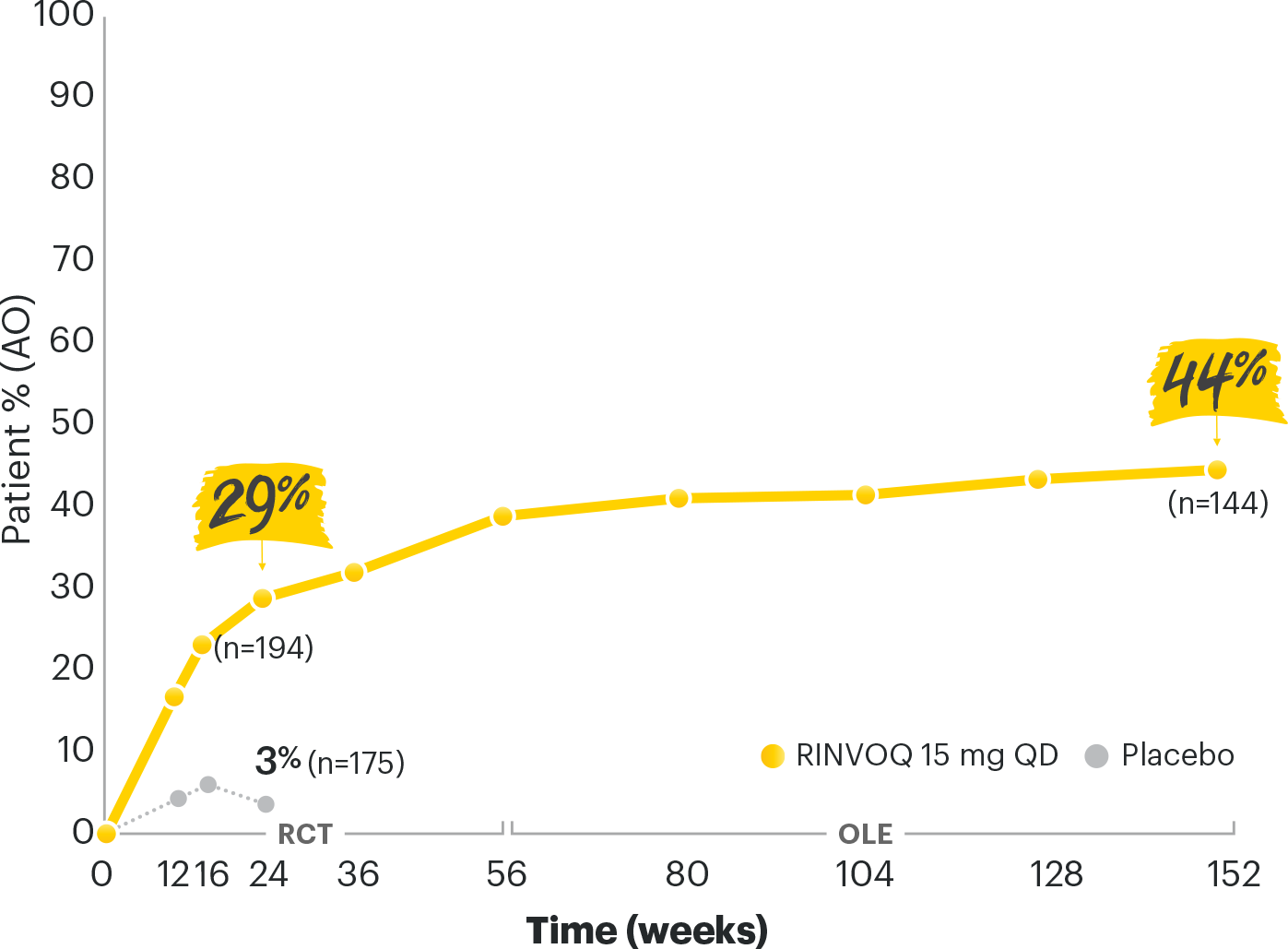 44% of RINVOQ patients achieved MDA at ~3 years4
In an As Observed (AO) analysis, patients with missing data at a specific time are not included, which may enrich the population and increase the response rates.
OLE LIMITATIONS: There is potential for enrichment of OLE data; unblinding patients may cause bias related to the overall treatment effect.
44% of RINVOQ patients achieved MDA at ~3 years4
Dr. Tate and Dr. Siegel discuss RINVOQ's joint and skin efficacy
data in treating patients with active PsA
Review the safety profile of RINVOQ,
including both short- and long-term analyses